Things To Do In Saint Paul
Explore the City
Explore everything Minnesota's capital city has to offer. The InterContinental Saint Paul Riverfront is in the heart of downtown, within walking distance to live theater, renowned museums, superb dining, specialty shopping, and so much more.
Grand Avenue
3.9 miles
When you're ready for some serious shopping, Grand Avenue's tree-lined 26-block shopping district delivers. Browse charming boutiques, stopping for a bite at a cozy pub or sidewalk cafe.
Summit Avenue
3.9 miles
Stroll the longest avenue of Victorian homes in the United States, taking in the former homes of Scott Fitzgerald, railroad tycoon James J. Hill, Nobel laureate Frank B. Kellogg and more.
Wabasha Street Caves
0.7 miles | (651) 224-1191
These historic sandstone caves are just south of the river and were once home to mobsters and speakeasies. Take a tour and get a glimpse of Saint Paul's past just under the surface.
Minnesota History Center
1 mile | (651) 259-3000
The best of Minnesota both past and present comes to life at the award-winning Minnesota History Center, featuring fun, hands-on exhibits and programs for all ages.
Minnesota Children's Museum
0.3 miles | (651) 225-6000
Perfect for kids six months to 10 years old, they'll have a blast exploring seven immersive galleries uniquely designed to provide a hands-on discovery and an appreciation for learning.
Bell Museum
7.7 miles | (612) 626-9660
Make it a fun and educational afternoon for the whole family at the state's official natural history museum and planetarium, located on the University of Minnesota Saint Paul campus.
Science Museum of Minnesota
0.3 miles | (651) 221-9444
A short walk along the Mississippi River takes you to the historic Science Museum of Minnesota, with its fascinating permanent and traveling exhibits, IMAX Omnitheater and more.
Ordway Center for the Performing Arts
0.3 miles | (651) 224-4222
The Ordway is a premier performing arts venue featuring a wide variety of theater, dance, music, family events, and educational programs—all within a six-minute walk from our hotel.
Palace Theater
0.3 miles | (612) 338-8388
The historic Palace Theater once featured vaudeville shows and was at one time even a gangster hangout. Now it's one of Saint Paul's best-known live music and entertainment venues.
Roy Wilkins Auditorium
0.5 miles | (651) 265-4800
Part of the Saint Paul RiverCentre, the Legendary Roy Wilkins Auditorium is host to a number of performing arts productions, conventions and conferences, and even the Minnesota RollerGirls.
Amsterdam Bar & Hall
0.2 miles | (612) 285-3112

6 W 6th Street
Craving the energy of a live concert? Then this is your place. Also enjoy happy hour with friends or try one of many tasty sandwich combinations—beer-braised smoked pork, anyone?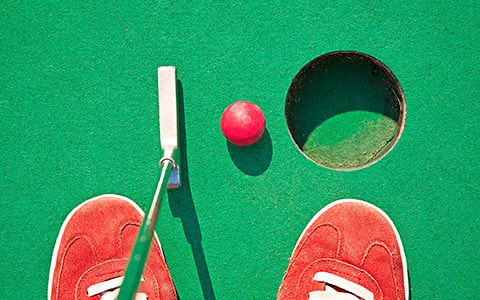 Can Can Wonderland
5.4 miles | (651) 925-2261
Head to the former American Can Company factory for a unique experience in a hipster playground complete with artsy mini golf, vintage pinball, inventive cocktails and more.
Saint Paul RiverCentre
0.4 miles | (651) 265-4800
The capital city's immense, multipurpose venue, Saint Paul RiverCentre features 250,000-plus square feet of flexible space for sports games, concerts, performing arts events and much more.
Harriet Island Park
0.8 miles | (651) 292-7010
Harriet Island Park includes a picturesque walk along the Mississippi River as well as fun paddle-wheel steamboat cruises—all just a short walk south across the Wabasha Street bridge.
Allianz Field
4.1 miles | (763) 476-2237
Head to Minnesota's first world-class professional soccer facility. An outdoor venue with natural grass, Allianz Field is home to the Minnesota United Football Club and is host to other large-scale events.
CHS Field
0.7 miles | (651) 644-3517
You're a short stroll away from the home of the Saint Paul Saints, an American Association team. CHS Field also hosts youth and amateur baseball games, concerts, farmers' markets and more.
Xcel Energy Center
0.5 miles | (651) 265-4800
Stay at the InterContinental Saint Paul Riverfront and you're steps away from thrilling Minnesota Wild (NHL) and Minnesota Swarm (NLL) games and spectacular entertainment events.
Tin Whiskers Brewery
0.6 miles | (651) 330-4734

125th East 9th Street
Make your way to Tin Whiskers to quench your thirst for fresh, handcrafted beer. By the pint or by the flight, choose from a wide variety of unfiltered, unpasteurized, and delicious brews.
Stacked Deck Brewery
0.3 miles | (651) 214-5448

421 Cedar Street
A good beer is always a good bet at Stacked Deck Brewery. And look for the amazing "chandelier" over the main bar, designed to resemble an expanding deck of playing cards.
12welve Eyes Brewery
0.3 miles | (651) 493-8106

141 East 4th Street
What started as three "four-eyed" friends with a penchant for crafting beer has turned into a popular brewery just a few blocks away from InterContinental Saint Paul Riverfront.
Parlour Bar
0.7 miles | (651) 207-4433

267 West 7th Street
Gather for expertly crafted cocktails and some of the most delicious burgers you have ever tasted—when brisket is part of the recipe, you know you're in for a meal to remember.
Eagle Street Grille
0.6 miles | (651) 225-1382

174 West 7th Street
Enjoy tasty pints and bites right across from the Xcel Energy Center, with a mob-themed menu that nods to the city's notorious past as a haven for 1930s' gangsters and mob bosses.
Cafe Astoria
0.9 miles | (651) 340-9471

180 Grand Avenue
You're less than a mile away from inventive hot beverages and traditional coffee and espresso favorites, as well as a delicious selection of crepes, baked treats, and inspired salads.